Tips for preparing for this important life event.
Some cesarean deliveries are planned and scheduled accordingly, while others may be performed as a result of complications that occur during labor.
It's important to think about your lifestyle and health habits during pregnancy.
Here are some tips and guidance for safe travels while you're pregnant.

A healthy, well-balanced diet during pregnancy can also help to minimize some pregnancy symptoms such as nausea and constipation.

Regular exercise, with the approval of your physician or midwife, can often help to minimize the physical discomforts of pregnancy and help with the recovery after the baby is born.

Severe acute respiratory syndrome (SARS), monkeypox, and a host of diseases can find their way into people from animals.

Certain medical conditions may complicate a pregnancy.

Certain symptoms should be reported to your physician immediately, during any stage of the pregnancy.
Comprehensive pregnancy and childbirth services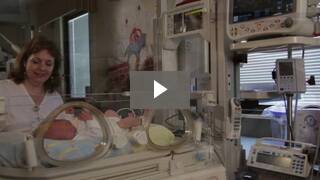 Having a baby is one of the most exciting and rewarding times in a woman's life, and Woman's Hospital is dedicated to providing expectant mothers and newborns with the finest care during this special time. Our high-quality maternity services are provided by obstetricians, labor and delivery specialists, nurses and other caring professionals in a welcoming, comfortable environment.
You'll find the full spectrum of care from prenatal to post-partum care, including high-risk pregnancy care and advanced labor and delivery services. Our comprehensive care extends beyond delivery, with a full range of educational resources for new parents.
Prenatal care
Woman's Hospital's comprehensive care begins in the earliest stages of pregnancy, with prenatal checkups and services tailored to your specific needs. You'll learn about proper nutrition and work with your obstetrician to develop a birth plan, choose a pediatrician, and get properly prepared.
High-risk pregnancy care
Perinatologists (doctors who specialize in high-risk pregnancy care) are available to manage pregnancy-related conditions such as gestational diabetes or preeclampsia, as well as provide specialized care for those with existing medical conditions.
Labor and delivery
Our state-of-the-art delivery rooms provide everything doctors, nurses and other maternal specialists need to provide you with excellent care. Experienced labor and delivery staff utilize advanced medical technology, and have the expertise to manage C-section (cesarean) births and other surgical procedures.
Breastfeeding support
Caring maternity nursing staff members are available to provide breastfeeding assistance and education, and classes for new mothers are available.
Support services and education
Woman's Hospital offers a variety of classes to prepare mothers and families before and after the birth of a child.
Maternity Services
At Woman's Hospital, we've delivered over 25,000 babies in the past 35 years, and to us, the last birth we will assist with today is as special as that first one back in 1975. Each birth is special, and we feel privileged to contribute to the wonderful memories associated with each one by providing the safest birth experience and compassionate care. The labor and delivery units at Woman's Hospital are staffed 24 hours a day by some of the area's top-rated obstetricians, neonatologists and nurses, as well as a staff trained in advanced obstetrical care.
Woman's Hospital offers private labor and delivery rooms, a surgical suite, and a modern recovery room. The postpartum units have been renovated to include large, well-appointed rooms that offer all of the comforts of home. For the safety and well-being of infants, Woman's Hospital is equipped with the latest technology, including a fully-equipped Level II neonatal intensive care unit. From the moment a patient arrives, the staff of labor and delivery, postpartum care, and baby nurseries work together as a team to provide a birthing experience our patients will never forget.
Woman's Hospital is staffed by breastfeeding specialists (nurses specializing in breastfeeding) to assist patients with infant care and breastfeeding. We encourage breastfeeding, and will do everything possible to make this a positive experience for mother and baby. The breastfeeding specialists visit all mothers within the first 24 hours after delivery and, along with the nursing staff are available to help patients with breastfeeding techniques and various aspects of your infant's care (holding, feeding, bathing and dressing). In addition to assisting with breastfeeding and infant care while patients are in the hospital, the breastfeeding specialists are available after patients are discharged to answer any questions.
Services offered:
Breastfeeding Specialists - IBCLC Certified Lactation Consultant
Labor, Delivery and Recovery Units
Neonatal Intensive Care Units
Obstetric Sonography
Prenatal Classes
Spacious, Comfortable Maternity Suites
Well-Baby Nursery
To help prepare for the big event, several educational classes for expectant mothers and family members are offered on a rotating basis throughout the year at Woman's.
Classes Offered:
Four-Week Child Birth Classes
Breastfeeding Instruction
Breastfeeding Support Group
Infant CPR/Safety
Sibling Class
Weekend Childbirth Class
Car Seat Safety
Nutrition Class
Trusted Care for Moms and Babies
Becoming a mother is a special time in a woman's life, and at Woman's Hospital, we are dedicated to providing women and newborns with exceptional care. Our experienced labor and delivery specialists provide everything from prenatal to postpartum care — including specialized care for high-risk deliveries — and a full range of educational resources and support to meet the needs of new parents.